The Best Movies from the 2019 Cannes Film Festival You Won't Want to Miss – Thrillist
The Cannes Film Festival is all about spectacle. Whether it's Quentin Tarantino returning to the French Riviera 25 years after he debuted Pulp Fiction, or the director of one of this decade's witchiest horror movies returning with a new bone-chilling terror, or simply watching the queues move at a snail's pace towards the welcoming gates of the Palais, there's always something to see here.
Some of the world's most anticipated movies are premiering on the Croisette, but if you're only here for the big ones, you might miss a few of the smaller, but no less exhilarating stories from some of the world's best directors. That's why we've compiled this handy list of all of the best movies at this year's festival, from lesbian costume dramas to ultraviolent hunting games to evil body-snatching plants.
Recommended Video
These 3 Gadgets Are Your Summertime Essentials
The Lighthouse
Director: Robert Eggers
Cast: Robert Pattinson, Willem Dafoe
Why it's worth seeing: The VVitch director Robert Eggers is back, baby, with another historical horror show, this time set on an island populated by two men, a lighthouse, and quite a few insanely terrifying nightmares. Robert Pattinson plays Ephraim Winslow, a young man who is serving a month on a windswept island off the coast of Maine, helping its aging lighthouse keeper Thomas (Willem Dafoe) with day-to-day tasks. Obviously, there's more going on here than just that, but to explain any more of the story would rob you of a truly scary, wonderful experience. The whole thing is shot in black and white and looks like a Bergman movie, and the entire time Pattinson and Dafoe converse in a delightfully crusty, rumbly Herman Melville-inspired sailor dialect from another century, growling things like, "GET TO WORK, SAYS I!!" at each other. Once it gets to the real scary stuff, there's no going back.
Portrait of a Lady on Fire
Director: Céline Sciamma
Cast: Noémie Merlant, Adèle Haenel
Why it's worth seeing: Céline Sciamma's muted costume drama hides a tender, wild soul underneath all the subtle gazes and secret smiles. On a small island in Bretagne around the late 1700s, a female painter, Marianne (Noémie Merlant) arrives to secretly paint the wedding portrait of a young aristocratic lady, Héloïse (Adèle Haenel), who keeps making things difficult for all the other painters who've tried to capture her likeness. At first posing as her new companion, Marianne swiftly falls for Héloïse, and must find a way to complete her job without revealing her feelings. Portrait of a Lady on Fire is sensual and electric, with absolutely beautiful cinematography and composition, and a gorgeous ending that hits like a gut-punch.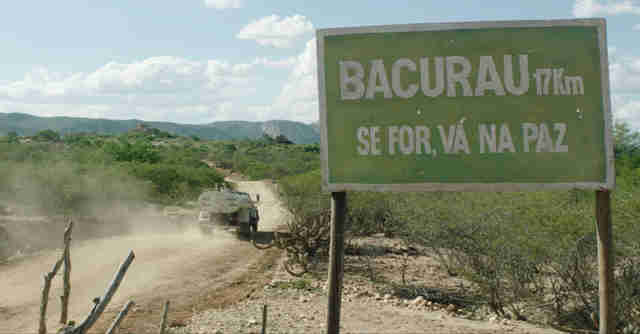 Bacurau
Directors: Juliano Dornelles, Kleber Mendonça Filho
Cast: Udo Kier, Sônia Braga, Barbara Colen
Why it's worth seeing: You do not know what you're in for with Bacurau, a magical-realist Brazilian fable that morphs into a sci-fi thriller with the style of a shoot-em-up video game. It's like a switch is suddenly flipped about halfway through: you think you've got the hang of what's going on, and then everything goes off the rails. The film opens with the death of Bacurau's oldest resident, a 94-year-old woman named Carmelita. After the citizens of the small backcountry town hold a huge funeral in honor of their matriarch, they notice that their town seems to have disappeared from the map. And then, someone starts turning their electricity off.
Little Joe
Director: Jessica Hausner
Cast: Emily Beecham, Kit Connor, Ben Whishaw
Why it's worth seeing: We've all seen Invasion of the Body Snatchers, but not like this. Young, single mother Alice is a bio-engineer at a futuristic greenhouse whose purpose is to research and genetically engineer the perfect plant. She and her team create "Little Joe," a beautiful red flower that, if kept at the right temperature and spoken to and watered regularly, will, in exchange, make its owner happy. She secretly brings one of the flowers home for her son, but soon starts to notice an odd change. Her son still looks and talks and feels like her son, but he's somehow different, like something about him has shifted. Her fellow employees at the lab also start to exhibit strange changes, and Alice grows more and more paranoid, convinced that the plants are altering the people around her in terrifying, insidious tiny ways.
Zombi Child
Director: Bertrand Bonello
Cast: Louise Labeque, Wislanda Louimat, Mackenson Bijou
Why it's worth seeing: From the director of 2016's shocking domestic terrorism drama Nocturama, Bertrand Bonello, comes an odyssey into the historic Vodou traditions of Haiti. The movie slingshots between a group of French schoolgirls in the present day and colonial Haiti in 1962, where a man is murdered by magic and brought back from the dead as a zombi (the Creole spelling) slave. Meanwhile, in a modern French boarding school for girls, a young Haitian immigrant tells her new friends a dark family secret — not knowing that one of them will use this secret to do the unthinkable.
Sign up here for our daily Thrillist email and subscribe here for our YouTube channel to get your fix of the best in food/drink/fun.
Emma Stefansky is a staff entertainment writer at Thrillist. Follow her on Twitter @stefabsky.
Let's block ads! (Why?)